Skip to product information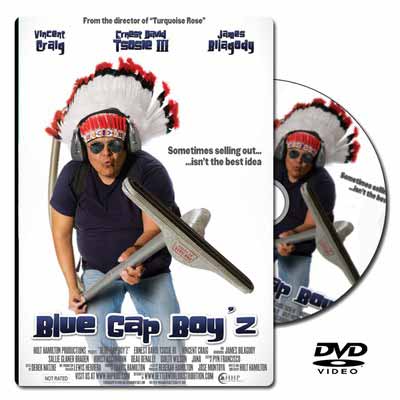 Pow Wow Nation Shop
Blue Gap Boy'z DVD
$35.00
In the small town of Blue Gap, Arizona on the Navajo Reservation there lives three brothers known as James (Ernest David Tsosie, III), Jessie (Vincent Craig), and Jodie (James Bilagody). These three brothers combine their talents to form the greatest band, (because it's the only one), Blue Gap has ever known!
The youngest of the three, James, a full time custodian at the local school, has the responsibility of being the band's manager. James got the job as manager because he can't play any instruments and/or sing and they didn't have any other choices. The other two brothers, Jessie and Jodie, are the semi talented driving force behind the struggling band that wants to make it big known as the 'Blue Gap Boy'z' from the rez.
By chance, these brothers hear about an exciting opportunity to audition for a German music producer named Rolf May (Horst Aschmann) who will be in Phoenix, Arizona for a few days. Rolf has come to the United States southwest to find and promote a Native American band in Europe.
The comedy picks up speed as the brothers journey from their little town of relatives to the big city of Phoenix. The three brothers get caught up in the outrageous hype so much that they find themselves committing to do whatever it takes to win this competition. The adventure takes another twist as brothers are persuaded to 'sell out' with the hope to gain the advantage over the competition and win the covenanted trip to Europe!
Free Shipping.
Many products are made to order and can not be returned unless there is an issue with the product quality.
In this case, please return it to us and we will either replace the product or give you a refund.
Returns are subject to a 5% fee to cover shipping.
Items that are defective or damaged may be returned within 30 days of purchase. We will not take returns that are not defective or damaged.
If 30 days have gone by since your purchase, unfortunately we can't offer you a refund or exchange. Items may only be returned if they are defective or damaged. 
To be eligible for a return, your item must be unused and in the same condition that you received it. It must also be in the original packaging. 
Shipping costs for the return will not be refunded.
To start a return, email orders@powwows.com with photos showing problems with production and quality.
Order Cancellations:
You may cancel an order as long as the item is not already in the process of being fulfilled or shipped. We cannot cancel or refund orders that are already in the process of being fulfilled or shipped from the warehouse, as we cannot intercept an item from being printed, fulfilled, or shipped. To cancel your order, email orders@powwows.com